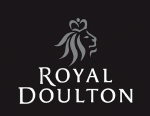 For over one hundred years Royal Doulton has been the world's pre-eminent leader in creating bone and fine china of unsurpassed quality. Royal Doulton dedicates itself to continuing its heritage of employing only the finest craftsmanship while approaching its work with a passion for ground-breaking innovation in design. At the heart of all Royal Doulton brands is a powerful connection to the artistic tradition - be it the inspiration of the Royal Doulton archives, or the abstracted artistic vision of today.

Royal Doulton continues to commit itself to creating a range of quality products, which lend themselves perfectly to the art of elegant living, be it luxuriously traditional or contemporary
A few of the most popular designs are highlighted here and are on display in our Helensburgh shop.
Royal Doulton Classic designs Atlanta and Biltmore typify the Classics range. Dark luxurious designs on a pure white background ensure a timeless elegance and will grace any table for special occasions.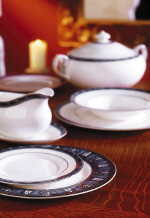 Atlanta is a bold sophisticated pattern suited to both casual and formal dining. The Greek key bead design is inspired by motifs popular in Ancient Greece but this has been updated by adding a more contemporary textured border in deep denim blue. Each piece is edged in platinum
Biltmore is an unusual pattern featuring marbled sea shades highlighted with delicate diamond panels and motifs in gold.
The 8 inch salad plate is available with either the standard broad border or with a distinctive central motif. Since its introduction in 1991 it has become popular throughout the world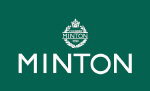 Since 1793 MINTON has stood as a mark of excellence in china tableware and giftware.

It may take a craftsman up to 3 weeks to apply and gild the raised paste decoration which is applied to a single Minton Plate.
The Haddon Hall range is inspired by the needlework tapestries and paintings hanging at Haddon Hall in Derbyshire, UK, this is the most popular Minton pattern of all times. John Wadsworth designed the collection in 1948
The success of Royal Albert, founded in 1896, billows from its quintessentially English grace and elegance and its sense of timeless, romantic fantasy. These qualities are reflected through its delicate floral decoration, its blooming feminine colours and its gentle flowing curves.
Royal Albert is . . .passionate about floral
Royal Albert's "Old Country Roses" tableware design is one of the most popular bone china patterns of all time. It has sold over 100 million pieces since it was introduced in 1962.

Royal Doulton Studio is innovative and experimental in its quest to produce the finest authentic designs for the home. Taking its inspiration from both the traditional skills found in design classics, and natural materials and forms, Studio
re -works them in imaginative ways to come up with truly unique one-off designs that are both practical and pleasurable to use on any occasion - from canapes on the lawn, to a picnic on the beach
Carmina is a versatile range of Royal Doulton tableware inspired by the warm and sunny colours of the Mediterranean. Featuring lemons and olives, the design of Carmina reflects enjoyable eating occasions. The versatility of the range allows you to mix and match individual items to bring a little piece of the Mediterranean into your home